They say write about what you know. I mostly write about drinking. Hell, half the time, I drink while I'm writing. So when a muse like St. Patrick's Day wanders along, you get to work. Which I what I did.
Is this stereotypical enough for everybody?
Plus, timely posts like these are a great way to generate cheap hits. Get ready to snort your Tullamores and shit yer knickers, it's time for...
The best St.Patrick's jokes for 2019
I'm chasing brain cells like St Patrick chasing snakes
I am not wearing green underwear, but they might be tonight after all this green beer. I mean, take your pick at this point; front or back
"Ugh, couldn't hold in that rum and Mountain Dew." (This is called foreshadowing.)
Any of you ladies need a drunken mistake? I'm available (8s and higher only please)
I've planned ahead and changed my Uber name to Drunk N Apologetic
Tonight, is my favorite night of boxing. There's nothing on TV, I'm talking about all the Irish bars
Can someone please tell me what a "jarro" is and why there is whiskey in it?
8 AM every Wednesday morning in County Cork.
The good news: I found a place that is dead and the beer is good
The bad news: there is one drunken, boorish, loud, ugly asshole here that's ruining it for everyone.
The reality: I am drinking by myself.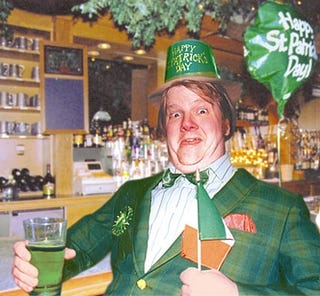 Dad?
Guys, a brief moment of silence for Lori Loughlin's kids who won't be celebrating St Patrick's Day on campus this year.
Stupid celebrities doing stupid things for their stupid kids.
I have a blender, Lucky Charms, Jamison and ice and I am not afraid to use them.
This bar I'm at is pretty cool. They even have green beer and small paper cups in the bathroom. Harsh drink, but it's minty enough to cover my breath. 6/10.
Amazon Prime needs some sort of "Drunken Purchase Protection" option because I will be lighting that shit up later on tonight.
My baby picture.
Does Grub Hub deliver to an Uber? Guess I'm gonna find out.
Whew! Finally broke the seal. I mean, as far as proper toilets go.
On a day of diminishing expectations, guys like me can really clean up.
Shit. I have vastly under rated fishing.
Bartender; what are you drinking?
Me; Floaters.
Any of you ladies need a lil' Irish in ya? I'm available. (8 and higher only please. Twitter needs that filter)
Well, I guess it'll be rum and Mountain Dew for me today. (Foreshadowing!)
So, apparently green lipstick is my new fetish. Which is so much easier than my old one of blonde Peruvians with Swahili accents who can play pirate shanties on harpsichords of ivory.
I have too many leprechaun jokes to use here.
This means Lucky Charms are 50% off tomorrow, right?
Hey, can all you runners knock it off this weekend? (Yea, I know this technically isn't a St Pat's joke, but I have a real problem with these do gooders trying to be all healthy when I'm bent on self destruction.)
FFFFUUUCKKKKKK YOU
Googles nearest Tilted Kilt: 31 miles away. Twin Peaks: doesn't even come up. Sigh…Hooters; 21 miles away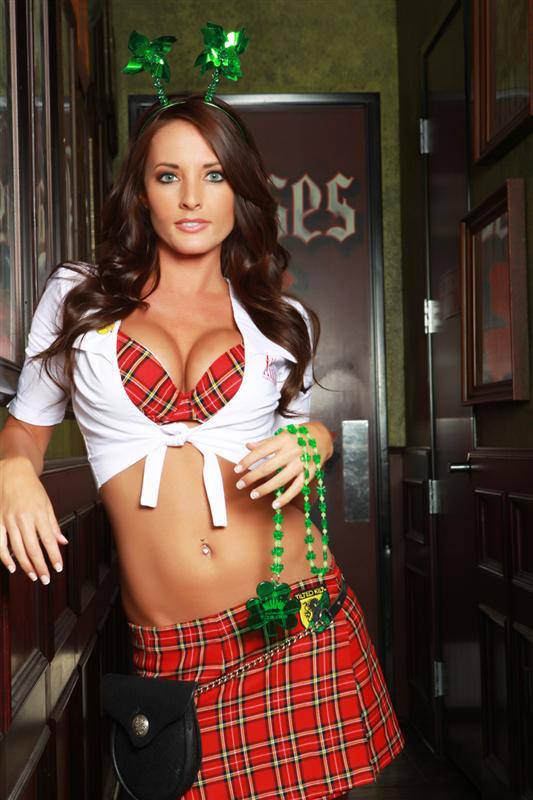 No, really, leave the head thing on. I'm cool with it.
Me drinking green beer like
Strike one; wearing Notre Dame shirt (What's the name of the leprechaun?)
Strike two; playing U2 (Name me anyone else in the band besides Bono)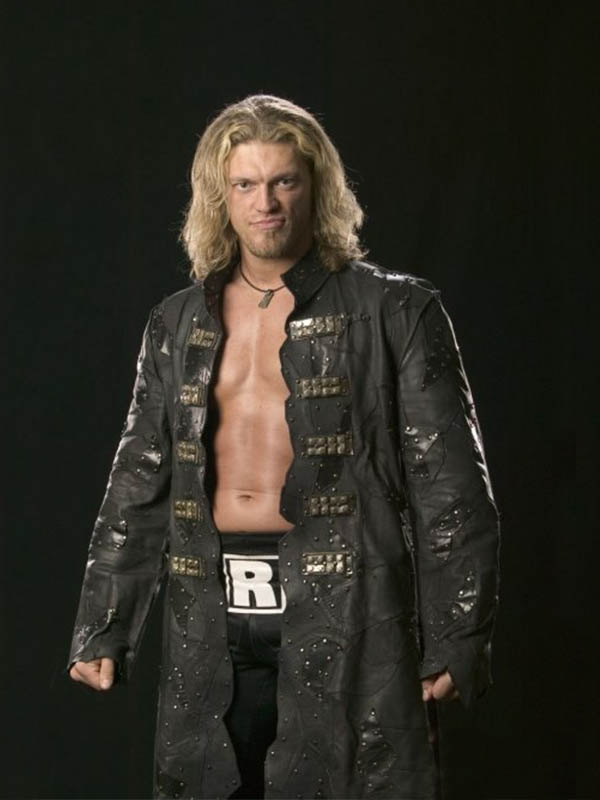 Nope. Wrong guy, doesn't count.
Strike three; orders Ultra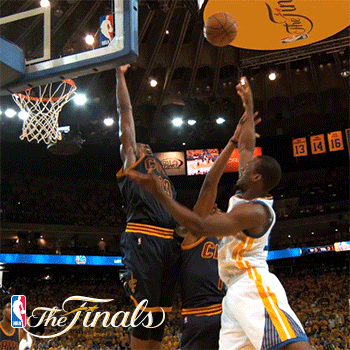 Get that Ultra shit outta here!
I really appreciate me a girl who can look hot with green hair.
Anyone know where Connor McGregor is planning on getting arrested today?
I will never get drunk enough to appreciate Irish dancing, but I'm still not one to back down from a challenge.
"Oh, great, Irish dancing!" Said no non breeder EVER.
I don't know what the differences are between "potatoes" and "Irish potatoes,", but I imagine it's much more fun to hang out with the Irish potatoes. I know that's the deal with Irish coffee.
JC, I lost my keys an hour ago and I keep praying to St Patrick to find the damn thing…What's that? He's not the patron saint of lost shit? Well, who is it then? St. Francis!? Does he get a drinking holiday?
(Bet y'all didn't see a St Francis joke coming today.)
Fireball + Jamison = Flamison. You're welcome world!
Soon.
Any of you ladies need some regrets from tonight? I am available. (7s and higher only please. It's getting later and I'm lowering my standards too)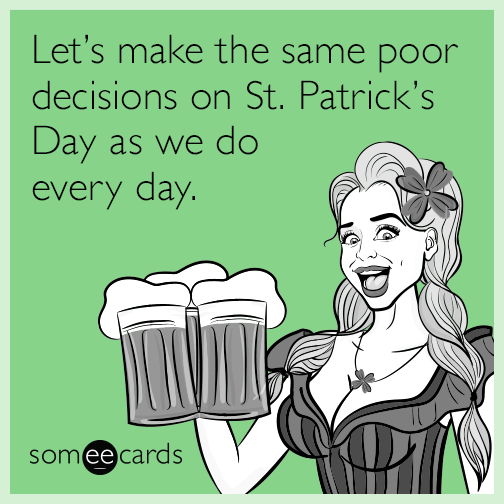 Heads up, because of leap year, next year, St. Patrick's falls on a Tuesday. So we need to come up with an excuse to get hammered on a Monday. I mean, a better excuse than the usuals.