Guys, we need to talk. And by guys, I mean the men amongst us. Ladies, as always you are free to read. Because I'm gonna kinda blame you for this as well. So you may want to stop InstaGramming for .2 seconds and maybe lend your opinion.
I have noticed a trend on the Book of Face recently that is pissing me off. Actually, there have been a lot of trends on FB that are pissing me off; car selfies chief among them. A close number two is people who apparently have the free time to post 10 or more things on their page. I'm unemployed and spend an inordinate amount of time on my PC most days of the week and even loser me don't gots that kind of time.
Enough with the Word Porn shares, men. You broads take it easy, too. But there's been a noticeable increase in dudes-who ain't young-reposting this Word Porn shit. Enough. Stop it. You look childish and silly.
Yes, I know me saying "Enough with any kind of porn" is startling, as it should be. I don't know how Word Porn started, or if/how they are making any money off all this, but fellas, knock it off.
It kills me to actually show some examples, since I am pretty sure your news feed is clogged with this horse shit numerous times a day. But for those lucky few who have no idea what I'm talking about, below are some examples of Word Porn's that routinely make the rounds:
I don't know where these Word Porns (now to be referred to as WPs) come from, or who started them or why. Some appear to be directly credited as coming from 'Word Porn.' Others are quoted to authors, poets, writers, musicians and other types who I am sure are generally embarrassed their work has ended up like this. They are put into a standard, cookie cutter format and-viola-they clog up your feed. I hope WP isn't a real company, making real money. K Theory has been churning out funny, cutting edge material for YEARS and ain't made a damn dime. Not that I'm jealous. Or bitter. Or poor. Or hungry. Or angry…
Here's how I envision the WP office if-your religious being of choice forbid-such a physical office exists. Every employee is a girl of varying ages. Almost all have dyed their hair, some have flashes of purple or pink or blue. If they only have one hair color upon hiring, they are issued bottles of Manic Panic as part of the dress code. Speaking of dress code, it's mostly black. Flats are generally frowned upon. Nail polish is encouraged, as is jewelry. Wearing of bracelets is only defined as "enough to constantly make a ruckus every time you move." Eyeshadow is wide, sometimes purple, and generally garish. (On a personal side note, 'garish' is one of my favorite words, and I need to use it more often.) Pretty much the same dress code for the one or two dudes that work there.
Cubicles-yes, even the faierieland of WP is a cube farm-are decorated with angels. All kinds of angels. Not the Disney kind of angels, but angels like this.
This IS my happy face.
Pictures of cats and people with lip piercings in every cube. In frames can be found quotes like the following: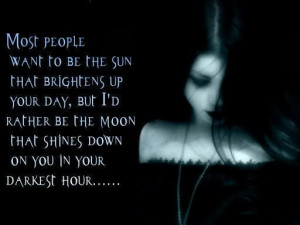 I guess this girl is like the top model for this kind of thing.
Music varies from old school (Siouxsie & the Banshees, Cure) to the newer emo bands that I am thankfully almost totally unaware of. The carpet is occasionally littered with glitter, angel dust and unicorn hair. Bathroom lighting is exclusively candelabra. Everybody is actually happy to work there, but never smiles about it. Might chip their layers of makeup.
Could you imagine if you were a delivery guy and had to deliver to this place?
Delivery guy enters. "Hey, I have a delivery for you." Receptionist lifts her head up, already snarling like he's bothering her from watching Cocteau Twins videos. She sighs heavily as she flicks her pen between her many, many ringed fingers. "Is it the My Chemical Romance box sets we ordered?" Guy says, "I don't think so, doesn't feel like that." "Hmm, maybe it's the hair dye. We just hired two girls." Delivery guy is tired every interaction goes like this. "Look," he says, "can you just sign for the package, Mist? I got a lot of deliveries today." She sighs again as she takes his clipboard, "UMM…it's MYSTT! How many times do I have to tell you that?" She hastily signs his sheet with a black gel pen. Delivery guy, let's just call him Stuart, says, "How…how can you even tell I said your name wrong?" Mystt says, "It's pretty easy there, Stewart." Stuart says, "Hey you said my name wron.." He stops because his mind is blown.
Back to the point, many of these 'original' WPs seem to express the point of view of a 7th grade girl.
I write at a 7th grade level, and even I'm embarrassed to see drivel like this. Let alone there's dudes, like grown men-reposting these like it's a Kermit meme. Well, guess what, it is my business when you're making yourself look like a huge douche nozzle.
If you're a girl, you can kind of get away with it. To a certain age. I would say the cutoff is about 25 or so. By 25 you should realize angels are about as real as mermaids and stop wishing you were either. By 25 your looks start to go, you actually have to work out to stay in shape, hangovers are more vicious, work sucks, people let you down and kvetching about it on FB makes you look like a bitch. Yea, I said it; and it applies if you're a girl or a guy.
But if you're a guy and reposting this shit, just gimme your man card. Hand it right over. I'm not friends with Caitlyn Jenner on FB, but I'm pretty sure she ain't posting this shit either. Don't get all angry at me, I'm your friend here. All the rest of your "friends" are too embarrassed to tell you you're posting such douchy crap. Stop it.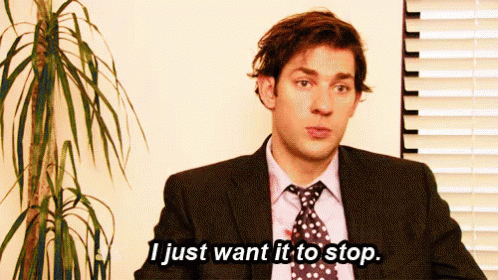 I'm pretty sure there is a WP generator out there that I can easily make such lameass puke. And you know what, dunderheads would probably repost it. I believe Taylor Swift is secretly writing these WPs anyway. These sound pretty much her speed. I'm guessing she's back on the market? Does she need to get a Tweet from me?
There you have it, guys; solid advice from Bro Kev. Drop the WPs. If you MUST repost stuff, the following would be acceptable:
Advice from The Rock
Pictures of half naked girls
Joe Biden memes
Mannequin challenges-though I think that fad expires on Friday
Kevolution Theory reposts